Consider it to be much like the NCAA basketball tournament if that helps you to visualize it.
First, all 16 players will be teamed up in no particular order. After these 16 players are done. The 8 winners will play to see who advances all the way to the final game as will the bottom 8.

EXAMPLE

1st round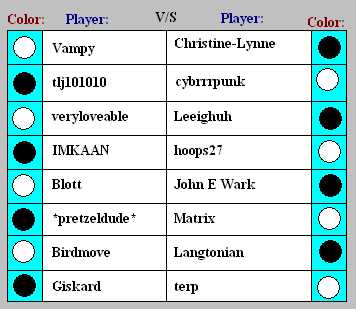 After the 1st round, the course of play will be...


EXAMPLE
Top 8
1: B-B

winner of 1 vs 2: Colleen
2:Colleen

winner of 1/2 vs 3/4:Colleen
3:Gervase

winner of 3 vs 4:Greg
4:Greg

WINNER OF TOP 8!:Colleen
5:Gretchen

winner of 5 vs 6:Jenna
6:Jenna

winner of 5/6 vs 7/8:Joel
7:Joel

winner of 7 vs 8:Joel
8:Ramona


TOURNAMENT WINNER!:RUDY

Bottom 8:
9:Dirk

winner of 9 vs 10:Kelly
10:Kelly

winner of 9/10 vs 11/12:Rudy
11:Rich

winner of 11 vs 12:Rudy
12:Rudy

WINNER OF BOTTOM 8!:Rudy
13:Sean

winner of 13 vs 14:Sean
14:Sojna

winner of 13/14 vs 15/16:Sean
15:Stacey

winner of 15 vs 16:Susan
16:Susan